The Celebrity Walk-In Bathtub is one of the Best Ways to Soothe Away Aches and Pains.
So we weren't surprised to find reviews like this one from satisfied customers who have had a walk-in bathtub installed in their home.
"In addition to this amazing tub, the customer service was knowledgeable and intelligent and responded quickly to my many questions. I couldn't be happier with this bathtub. I cannot begin to say how truly life changing it is. If you struggle with bathing (or have a loved one that struggles and are concerned about them) this is the perfect product."
You can read more about the Active Forever Celebrity Walk-In Bathtub on this page and learn about all of the ways that this tub can help you enjoy your life more fully.
One of the best features about this product is that there is no fear of falling in the shower. For aging loved ones, it can be difficult to maintain balance on a slippery bathroom tub. The Celebrity Walk-In Bathtub is the remedy for this problem.
If you are looking for an easier, more comfortable way to bathe, the celebrity walk-in bathtub is an excellent choice. This bathtub is designed to allow you to safely and securely bathe in comfort and privacy or with the help of a caregiver.
Reviewers were really enthusiastic about the way that this particular product has revolutionized the way that they feel about bathing and the amount of time that it takes to have a bath. Getting in and out of a bathtub can be dangerous for anyone, especially for people that are a bit unsteady on their feet. The celebrity walk-in bathtub takes away a lot of the fear of falling by providing a door that the person can use when he or she is ready to take a bath.
Once the door is securely closed and latched, you can fill the tub with water and take a bath just as you would normally. This walk-in tub can also be used to take a shower, if that is what you or your loved one prefer.
Reviewers were really impressed with the quality of this particular tub because it is crafted to fit into any bathtub area. Once the bathtub is installed, you can feel more confident about taking a bath, knowing that you will be safe and secure as you get in and out.
Another reason that reviewers like this tub is the comfortable bench area that allows you to sit comfortably without having to put pressure on joints or tight muscles. When you enter the tub, it almost as if you are simply moving to sit in a comfortable chair while you bathe.
People that used to really enjoy taking baths are now able to do so again with the Celebrity walk-in bathtub.
Walk-in bathtubs have been around for years, but the technology has really improved and made them an excellent choice for people that need a better way to bathe.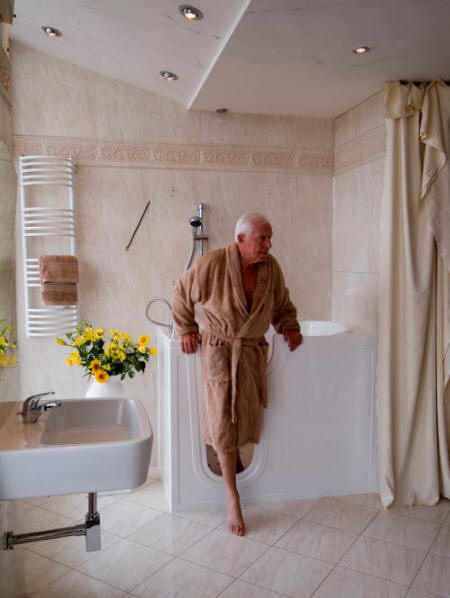 Many of the reviews that I saw were written by caregivers who were either caring for a loved one or employed as a home health care nurse. Since they spend so much time caring for seniors, I realized that they know what they are talking about when they say that this bath tub is a great purchase for someone who is having trouble with balance and coordination or cannot operate the normal bathtub easily.
Reviewers also say that the safe step is one of the best features on the walk-in tub.
Most bathtubs have a large side wall that you must climb over. In order to make this walk-in bathtub easily accessible for seniors, the tub now has a small safe step. With this step, all of the water will still be contained in the tub without leakage, but you or your loved one will be much safer when getting in and out of the tub.
This luxurious tub is a great addition to any home because it makes bathing so much more comfortable for seniors. If you are currently feeling a bit unstable as you get in and out of the bath, you can ensure that you are safe while in the tub with a celebrity walk-in bathtub.
At the beginning of this review, I said that this walk-in bathtub would help soothe away aches and pains. That is because you can purchase a Celebrity walk-in bathtub complete with 18 relaxing hydrotherapy jets. Having this type of jet system to accompany your bath is a great way to relax more fully as you are soaking in the tub and to really loosen up tense muscles and relieve soreness or stiffness.
If you are considering a Celebrity Walk-in Bathtub, this diagram will help you understand how the bathtub works, how it is set up, and how it can help you feel more comfortable and secure in the bathtub.
You can now bathe without the fear of falling and add a beautiful new bathtub to your home. With the luxurious Celebrity Walk-In Bathtub, you will now be able to soak in a luxurious bath with hydrotherapy jets relieving all of your tension and stiffness.
Reviewers have also said that they enjoy the ergonomic handles and the panels available on the Celebrity Walk-In Bathtub. It is extremely easy to make the transition from a regular bathtub to a walk-in bathtub, and it can often make the bathing experience much more pleasurable and enjoyable.
If you are searching for a new walk-in bathtub to update your home, look no further than the Celebrity Walk-In Bathtub with Jets. Reviewers love this tub because it is made from the highest quality materials and offers a luxurious and relaxing bathing experience for seniors. You can even purchase your new bathtub online and have it shipped directly to your home! With the unlimited convenience of shopping online, you can make the choice to live more comfortably and more luxuriously right now!