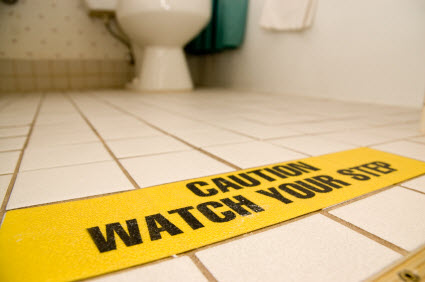 If you're responsible for elderly parents, either living in their own home or staying with you, then one of your greatest concerns must be their safety. The bathroom is the most dangerous room in the home, with its combination of water, slippery floors and tiles, and the difficulty of maneuvering in and out of an unsuitably low tub.
There are a number of different products available that can convert your bathroom from a deathtrap into a safe, easily usable and pleasant environment. Getting this right can literally add years to your elderly parents' mobility and independence, as well as greatly improving their quality of life.
What do you need to make a bathroom safe for a senior?
There are a large number of  bathroom safety products available out there. Obviously, you need to consider your parent's specific needs, as well as the layout of the bathroom. Making renovations and changes like this should be an investment for the future. Remember that, if your parent is becoming frail now, they will only become more so as time goes by. Err on the side of caution when it comes to putting in things like bathroom safety rails, and think ahead to a time when it may be necessary for them to have assistance in the bathroom. For example, even if your aging parent can get in and out of the bathtub now, will they still be able to do so next year? And is there anything that you can do to extend the time that they stay mobile and independent?
When it comes to keeping an aging parent safer in the bathroom, the following are must-have items…
1. Walk-in Bathtub, the first choice for senior bathroom safety
Stiffening joints and impaired balance can make getting in and out of normal bathtubs impossible for seniors, or at least highly dangerous. A walk-in bathtub is just what it sounds like – a bathtub with a door in the side. You open the door, and lower yourself onto a comfortable seat, and the tub is then filled with warm water. The really good ones also have massage jets, so the tub doubles as home hydrotherapy for aching joints and muscles. You'll find a good example of this in this walk-in bathtub review. Just be sure when you order one that you've chosen the right orientation for your bathroom. It's pretty important to have the door on the correct side! These walk-in bathtubs can be installed by a plumber or a handyman.
2. Bath safety seats and shower seats
Standing on one leg to climb into a bath can make balancing extremely risky for some seniors, even with a grab bar in place. Consider installing a bath transfer bench. This makes it possible for someone to slide from a chair (which is next to the bath) onto the bench, which is then lowered into the bath. That removes any potential for falling out of the equation. Currently, there are many to choose from, including some ranges that are actually decorative, rather than 'hospital'-like. For shower stalls, you'll need a shower seat. Again, involve your parents in making the choices. Do they want a padded seat? Arms or no arms? With or without a backrest? Be sure to install a grab bar inside the shower to go with the seat.
3. Bathroom grab bars
Shower grab bars and bath grab bars come in many different forms. For maximum safety, it's best to make sure they are securely attached to the walls by a qualified person. While you're deciding which ones to choose and where they should go, you can make do with a portable suction grab bar. This is very strong and safe, and has the advantage that you can pull it off and take it with you. Remember to take this along if you have, say, a family vacation with your elderly parent, somewhere that hasn't been optimised for senior bathroom safety. Don't forget to make the rest of the bathroom as safe as possible, installing a safety rail next to the toilet as well.
4. Toilet Lifts
Being able to use the toilet without help is an important part of privacy and dignity for anyone. But the muscle control and balance that are required for lowering one's self on to the toilet, and getting back up again, can be difficult for a frail parent to manage. This is another fall danger spot. A toilet lift provides controlled support and takes as much as 80% of the user's weight. It should be used in conjunction with a grab bar.
You can find an excellent range of all these senior bathroom safety supplies here. I've been very pleased with the quality of their products, as well as the range of options that they offer, particularly some of the unusual, decorative safety ranges. When you're sharing a home with elderly parents, you don't necessarily want it to look like a clinic! Their prices are fair and delivery is quick . . . a great partner to have when seeing that your parent has the best care possible at home.